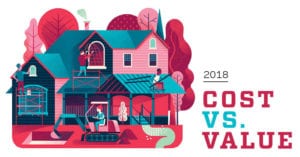 Cost vs Value is something we often talk with clients about.  Every year we look forward to seeing the release of Remodeling Magazine's Cost vs Value report in order to help paint a clear picture of potential investment it will require for a potential project,  but this repoart also allows homeowners to see what kind of return they can expect from an investment into any particular remodeling project.  As these are averages they can vary greatly but helps give an idea as differences in area can vary greatly.  For example whether your in Lake Forest / Lake Bluff / North Shore Area, or if you are in Libertyville / Gurnee / Lake Villa Area.  All of these areas would have differences that our clients will need to consider.
We can not publish all teh data, but it is free to download at www.costvsvalue.com.  You can select different areas and types of projects to help give you accurate data.
Any questions on remodeling a kitchen, baths or even an additions in Lake County, McHenry County, Kenosha County or Northern Cook County let us know.