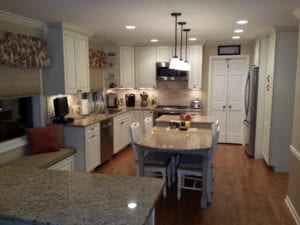 Kitchen Islands are common, and if someone does not have an island they usally ask about adding one. But is a normal island always the perfect solution. No it is not.
There are alot of creative ways to make an island have more character, you can add a table to it or maybe make it the centerpiece of the kitchen.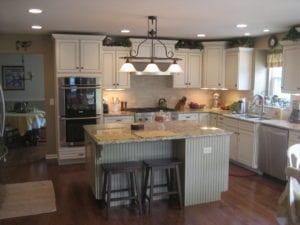 Here is a picture of a kitchen we in Lake Barrington, Illinois that we incorporated the kitchen table into an island. It allowed for some work space to be kept near the stove and the island extend into the old dinette. The other picture is a kitchen from Antioch, IL and allows for some built in seating into the island.
We install new kitchens in Southern Wisconsin and Northern Illinois.  Let us know is you have any questions about what you can do for your new island.