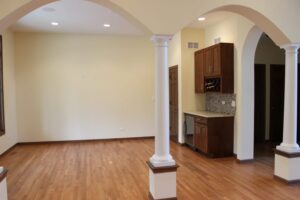 Whether buying or building a home or just renovating an existing space, homeowners have many choices in flooring today. The choices are vast and often overwhelming! Do homeowners attempt to do it themselves to save cost or have a professional installation? There are many tricks to the trade so we've provided some basics to keep on the right track.
Renovations
Renovating an existing space can bring incredible aesthetic pleasure to the homeowner while increasing a home's value. That value will vary by the market area so it's hard to give a specific monetary value as a generality. If there is an older existing hardwood floor, a simple sand and finish can add luster and appeal. Often the age of the hardwood implies that the type of wood can no longer be found or is exorbitantly expensive and rare. As long as nail-heads are not poking through due to multiple sanding, it's ideal to refurbish existing hardwoods and give a simple poly coat. Home buyers love flooring and hardwoods remain at the top of the list.
If you have worn vinyl/linoleum, dated carpeting or hardwood flooring that cannot be salvaged, the best option is typically a pre-finished laminate or engineered hardwood instead of the older 3 inch nailed boarding. The bigger box stores will have a limited amount of samples so its best to shop at a specialty or discount flooring retail store with a wide variety.
TIP!
Everyone oohs and ahhs over the many choices. Do not ever order flooring before getting a plethora of samples, bringing them to the home and laying them out in different locations. Light affects colors widely and what seems incredibly beautiful in the fluorescent lighting of a store may look muddy, dull or downright ugly in individual home spaces or with different wall coloring. (side-note: this is also true for changing paint colors).
Building a Home
The appeal of building a dream home is fraught with billions of choices for the buyers which can be overwhelming and stressful. Most builders will have pre-selected choices of flooring. This will mirror what the individual market areas desire from current purchasers. Most builders offer a select choice of Hardwoods, pre-finished engineered hardwoods, laminate, tile and carpet samples. Some custom buyers however may opt for the same as a renovation client, and choose different materials for flooring for a unique look. Some even prefer stained or custom cement, granite, marble or composite materials. Again many choices.
So What's in the Floor?
Most major market areas nationwide are reflective of the changes in consumer demand for the newest and best materials. Here are the top choices trending in real estate. These reflect buyer choices in top selling markets nationwide and vary from urban area to suburban neighborhoods.
Five inch engineered hand-scraped hardwoods. $$-$$$

Clearly the top winner in this category, these pre-finished engineered tongue and groove flooring choices are top for buyers nationwide. Yes, they are real wood. This product is constructed with multiple layers of "plied" wood and then topped with a solid and durable top hard coat. The effect is an aged wood look with laminate durability. Most companies will offer a warranty with their product against scratching and scoring common with basic 3-inch hardwoods.

Pro's: they are durable and beautiful and relatively inexpensive. This product is mostly scratch resistant and good for animals or high traffic areas. DIYers may need some time to adjust to the width but these boards "float" instead of being glued or nailed to the sub floor. This makes for fairly simplistic installation.

Cons: Price can widely vary. This type of flooring can typically be sanded and re-stained once in it's lifetime, however the warranty negates the necessity for this for many years.

TIP!

Though this flooring is durable it CAN scratch and chip. Darker floors can fill in color by coffee grounds or a stain marker provided by the manufacturer. Be aware that the bamboo styles are softer and scratch easier than the other products. Cleaning is fairly simple with a simple wet mop. Keep in mind that the darker the stain of the hardwood the more dust and pet hair will show. Be aware of colors and wear and tear in your home before choosing a dark stain.

Tile flooring $$

Tile also has pros and cons. Beautiful and ranging in color, striations and size, tile can give glamour and value to any home. Tile is typically limited to kitchens, baths and laundry areas. Only in our coastal areas and lake homes is it typical to tile throughout a main living area. Be aware of what is common in individual market areas if the home will be for sale in the near future. A fully tiled home in Kentucky will not go over as well as one in Florida. (See above tip for sampling tile with a home before purchase).

Pros: Tile is fairly simple to maintain and easily cleaned. Like engineered hardwoods, tile can definitely increase a home value.

Cons: Tile may break, so keeping extras on hand is highly recommended. It can be a laborious job to replace a single tile and expert hands will be required for installation and repairs. This makes inexpensive tile more expensive in the long run due to labor costs. DIYers should only attempt a tile installation if they have previous experience or are working with an expert. Tile saws and grout are very messy so preparation and drop-cloths are a must.

Cement or epoxy concrete flooring $$$

This type of flooring is a growing trend in more urban, contemporary housing as well as condominiums nationwide. This flooring ranges vastly from very inexpensive for plain epoxy concrete, to fairly costly artistically intricate styles. Many environmentally conscious customers enjoy the "green" aspect of cement and the versatility and extreme durability it offers. A specialty company is required for this product but the variety of designs, textures, colors and styles brings fun and gives extraordinary flair to a more modern home.

Pros: extreme durability and environmentally friendly. It is often shaped to resemble or mimic tile, wood, or even stone surfaces. Cement is also used for counter top surfaces, showers and outdoor spaces. Very low maintenance.

Cons: Considered a "cold" surface in cooler climate areas. The hardness of concrete may deter those afraid of falls or walking on this hard surface constantly. Not typically a DIY job.

TIP!

Similar to the above sample tip, please be sure to pick colors and styles within the home when speaking to a salesperson. The lighting, colors and textures could clash with existing decor so having choices brought to the residence is ideal. Color of concrete cannot be changed after it is poured and laid. Surety of this product choice is necessary. It is a fairly permanent decision.

Laminate flooring $-$$

Laminates have gotten a bad rap. The days of plastic, peeling and cheap looking flooring are quickly becoming a thing of the past. Certainly there are still extremely inexpensive products out there for the ultimate penny-pincher, but the cost- effective quality flooring laminates are closely pacing with hardwoods. The reason stems from its extreme durability and cost effectiveness.

Just like it sounds, laminate flooring is a synthetic product of a moisture resistant wood product layered with an applique of the desired style (picture) on the top layer. This image is then laminated to produce the desired look. The styles are so vast it's mind boggling. Laminates copy stone, hardwood, brick, tile, aged wood, or even vinyl. Laminates have greatly improved over the past few years for better moisture resistance and durability. This makes them a fantastic choice for renovations or homeowners on a budget.

Pros: Variety can offer very customized styles and can mimic higher end products. Highly moisture and stain resistant, extremely durable, simple to clean and fairly inexpensive. Very easy for the DIYer to install.

Cons: Similar to concrete surfaces, laminates are harder than hardwoods and seem colder. They do not increase a home value as much as installed hardwoods or engineered hardwoods. These floors cannot be stained sanded or refinished so once the life of the product is ending, the only choice is a full replacement.

Carpet $-$$$$

Carpet is currently banned mostly to bedroom areas and customers are very picky about pile, color and maintenance of carpeting. This is probably the most commonly known product and is so widely offered that again, choices are endless. From Berber to Frieze, plush to flat, carpet is truly personalized and available at every spectrum of price and color.

Pros: No doubt it is the top choice across markets for bedroom flooring and offers extreme customization, style, color and design.

Cons: Depending on price and quality, carpeting holds stains, tears and snags. Significant damage or staining requires full replacement. Carpeting holds pet dander and odor over time so frequent vacuuming is required specifically for allergy prone homeowners.

TIP!

To save money in replacing an older carpet, take up the old carpet yourself and discard. Most companies charge extra for this "labor" and the disposal of the existing carpet.

Before choosing any flooring, a homeowner or buyer should closely examine all aspects of daily life and budget. There is no "right" flooring for everyone. The choice should reflect the style of the owner or build client. Preparation, consideration and patience should preface any purchase but the rewards are clear: Happiness is underfoot.