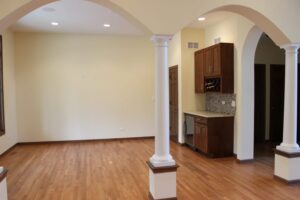 When considering the finished aspects of your new home, there are several choices when it comes to flooring. Ignoring some of the more uncommon or exotic choices, most of your options will come down to making the most of the natural properties of vinyl, wood, carpet and tile.
Wood Flooring may be the most versatile option. There are a wide range of options here, primarily due to the multiple ways in which wood flooring materials are constructed.
Solid Hardwood Flooring is made up of 3/4″ thick boards that come in a variety of widths from several different species of trees, ranging from the relatively soft and more common oak to harder and more exotic species like Brazilian Cherry. Solid flooring can be installed unfinished and then sanded and stained in place, or it can be purchased pre-finished with the color and sealing done in a factory. Solid floor boards can be sanded and refinished years down the line, when the original finish fades or is rubbed away through years of use. Read our article: How to Care for Hardwood Floors.
Engineered Wood Floors are made up of layers of wood pressed together and cut into boards. The layers are more resistant to shrinking and warping than solid floors. Since they are made from real wood, they have the look of solid flooring at less cost. However, the thin layers make it difficult sand and refinish the flooring more than once or twice.
Vinyl Flooring comes in two main forms: Sheet and tile. Sheet vinyl is just as it sounds – large rolled sheets best suited for installation in a large area or a smaller area where seams are not wanted. Vinyl floors are tear-resistant and waterproof, however, they were avoided in the past because they gave the room a plastic and artificial look. Vinyl has come a long way, however, and can now offer the look and feel of much more expensive tile or wood.
Carpet can be the most affordable flooring option (or the most expensive!). Depending upon the style and materials, large areas can be finished at minimal cost. The color and texture of the carpet are what you will see and feel, however, don't ignore the carpet bad underneath. A thin pad can make even an expensive carpet feel terrible when walking on it, while a high quality carpet can make a budget carpet feel terrific.
Also, pay attention to where your traffic patterns are to get the right level of durability. Soft, plushy carpets in the bedroom won't do well on a staircase. If you have a living room where the family spends most of the time, get a carpet suited for that level of use and look for a waterproof pad that won't soak up spills and pet stains.
Tile is available in a wide variety of materials. It is also likely to be the most expensive option due to the amount of labor required to install tile well. Tile is, generally, impervious to water and a good option for entryways, bathrooms and kitchens. Some find that standing on tile can lead to fatigue in the feet and legs, however, so consider your lifestyle when choosing tile as an option. Additionally, the grout on tile may require periodic cleaning, which some people find cumbersome.
Laminate Flooring is somewhat similar to engineered wood in its construction, in that multiple layers are pressed together to create a durable, stable and strong material that resists expansion, shrinkage and warping. Unlike engineered flooring, however, the laminates are not made entirely from wood and are created from resins, and fibers with a top layer that is made to simulate wood, ceramic or stone. Laminate flooring is generally easier to install and, since the surface is a photographic layer, can be made to resemble a wide range of other flooring options.
Choosing the right flooring options for your home usually involves some mixture of all three. Take the time to consider your lifestyle, the level of maintenance you want to put into your floor and, of course, your budget to find the best options for your new home.