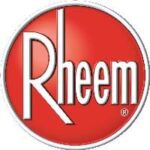 There are an abundance of furnace manufacturers offering wide range of furnaces. They range from the from the standard 80% efficiency furnace to a range of high efficiency furnaces. For some time Modern Homes, Inc has installed a 92% efficiency to ensure our customer had an energy saving furnace.
Modern Homes, Inc. have now partnered with Rheem to offer one of the high customer satisfaction rated furnaces offered. With this we now offer a 95% Efficiency Furnace in all of our homes, new or remodeled. Rheem also offers a 10 year part warranty. You can view more about the product at www.rheem.com.
For any further questions or a furnace replacement, Contact Modern Homes, Inc..