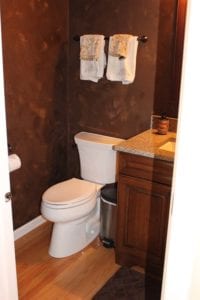 Thinking about changing a room?  Painting is the simplest and lowest risk way to make big difference in any room.  Whether you hire a professional painter or you DIY, here are just a few ways of getting the most out of new paint
Find Inspiration: To begin, find colors that are already in the room.  Look at art pieces, accent colors in candles, rugs, pillows to become inspired.  Think about the mood of the room you would like to express.  A bedroom should be soothing and relaxing with cool hues.  Pick a bright color for a child's playroom. For bold colors look at dark luxe colors.
Test the Color Choice: When you have narrowed down the colors you like, go to a paint store and buys some samples.  Looking at them in your home in natural light will give you a better idea of what each color will look like in the room you have chosen for it.  Be sure to test each color in natural light, artificial light, and at night.
Chose a Finish: Flat finishes like eggshell and matte are perfect for hiding imperfections in a living room, dining room or rooms with less traffic and require little maintenance. For rooms with high traffic volumes and ones that require frequent cleaning look into glossy finishes, like satin and semi-gloss, these can be easily cleaned.  Use these finishes in kitchens, bathrooms and on the trim.
Prep Your Home: This is probably the biggest step. Prepping a home for painting takes more time the actually painting the home.  Move furniture out of the room being painted, if not able to do so, make sure all furniture and flooring is covered so they paint drippings can ruin them.  If not painting trim edges tape them off.  Patch any holes, dents, and all other blemishes with mudding and sandpaper.